Nostalgia Super Stock
From MoparWiki
---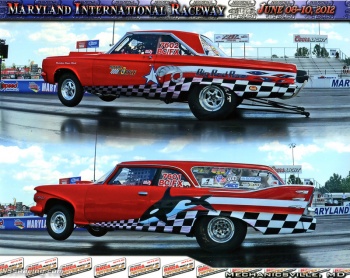 This Wiki is Under Construction, and can use your help!
---
Please take a moment to add any information you might have on this topic. It is through this type of Member collaboration that the MoparWiki will grow into being the Ultimate Mopar Infobase. The links contained in the Understanding Wikis box in the sidebar can help you get started.
Introduction
Nostalgia Super Stock is a foot brake only class of index racing for the year models, body styles, and engine combinations, which accurately represent those cars, which raced in the FX and Super Stock classes of the '60s. Certain exceptions in the authenticity of these cars will be allowed. Among those exceptions, but not limited to, are factors concerning safety, equality in performance, availability, and durability.
Classification will be based on a visual inspection and an e.t. range. No modifications, which alter the car from factory stock, are permitted unless they are specifically allowed in these rules.
Sandbagging, excessive braking near the finish line or excessive mph for a given e.t. is subject to result in a disqualification. Nostalgia Super Stock is an all run field, and will compete on an NHRA Sportsman type ladder. The class will qualify by elapsed time closest to index, be paired according to qualifying positions, and then advance to eliminations. All qualifiers in Nostalgia Super Stock must have a valid elapsed time recorded to be placed into eliminator competition. Nostalgia Super Stock racing will be conducted at all drag racing events (see race schedule).
Accepted Products:
Accepted Products Deadline: NMCA will accept requests from manufacturers to have new products considered for addition to 2009 accepted lists only up until November 10, 2009. After this date, NMCA will consider manufacturer requests for new products for the 2010 season.
Qualifying Information, Ladder Type, & Tree All Run, NHRA Sportsman Ladder, .500 Full Tree, Handicap Start.
In a nutshell, the cars need to be of the type that ran S/S in the day, stock appearing body (fiberglass and Lexan allowed in some areas), stock location steering, Slicks no wider than 10.5", Full Interior (carpet, door panels, stock dash, headliner, ...), Stock floor pans, no frame alterations, engine and transmission of the same type originally available for the car (displacement is not a tech item), and stock appearing under the hood (must have inner fenders). There are a few safety concessions allowed -- such as disc brakes. Weight is not a tech item -- although extreme lightening is not allowed. Driver, Car, and equipment must otherwise pass NHRA safety inspections for the time/speed they run.
Many credit former Super Stock Champion Dave Duell as the main motivator in creating Nostalgia Super Stock Racing.
Rules
The below are a very condensed version of the most universal NSS rules. The full version of the rules can be found at http://www.nssracing.com/?page_id=39.
Car Allowed
The following is a list of cars/engines, which are allowed to compete in the Nostalgia Super Stock class:
AMC AMX: 1968 - 1969; 390
Chevrolet Full Bodied: 1959-64; 348 & 409s, Z11 427
Chevrolet Full Bodied: 1965-67; 396-454
Chevrolet Chevelle: 1964 - 1967; 396-454
Pontiac Full Bodied: 1959-67; 389-455
Tempest/GTO: 1962-67; 389-455
Ford Full Bodied: 1959-67; 390-427
Ford Thunderbolt: 1964; 427
Fairlane/Comet/Cyclone/Falcon: 1963-67; 390, 427
Dodge/Plymouth Full Bodied: 1964-67; Hemi
Buick Full Bodied: 1960-67; 401-455
Skylark GS: 1964-67; 400-401-455
Chevelle: 1964-67; 396-454
Oldsmobile Full Bodied: 1960-67; 394-400-455
Cutlass/442: 1964-67; 400-455
Dart/Barracuda: 1968; 426 Hemi
Indexes
these Indexes have. changed and need to be uodated

CLASS DESIGNATIONS & INDEX
AAA/FX 08.75
AA/FX 09.00
A/FX 09.25
B/FX 09.50
C/FX 09.75
A/NSS 10.00
B/NSS 10.50
C/NSS 11.00
D/NSS 11.50
E/NSS 12.00
F/NSS 12.50
G/NSS 13.00

All NSS class participants must declare & have posted the NSS class of choice prior to the 1st scheduled qualifying run in their respective eliminator or at the time of technical inspection. If you fail to declare your index, you will automatically be placed in the -A‖ index class. No change of class is permitted after the first scheduled qualifying round for the respective eliminator.
This Wiki requires References
---
The information in this wiki will have more creditability with some references to back it up

{{{{Template:BottomWikiNSS}}}}