User:BK
From MoparWiki
 I've not edited this page in many years, but plan to this week

---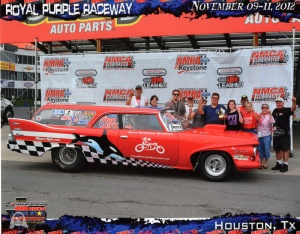 BK (short for Big Kahuna -- a name friends gave him back in the early 90s) is the Administrator of MoparStyle, which he started in 2002. He's a semi-retired business executive/owner who now spends with his family, drag racing, and maintaining a slew of web sites and a gaggle of collector cars.
Other automotive and drag racing sites Dave administers include:
BK News
On November 11th (2012), Dave finally achieved one of the biggest goals in his "Bucket List" by winning his first NHRA "Wally".
(From the NMCA web site) Dave Schultz driving the Texas Whale won his first ever NHRA Wally at the Lonestar Shootout this past Sunday. It was a very pleasant experience after the disappointment of losing the 2012 NMCA Points Championship in Nostalgia Super Stock by less than one round, just a couple of weeks earlier in Indy. It was doubly satisfying that his wife and youngest daughter were at the track to witness Dave being able to cross "Winning a Wally" off the top of his "Bucket List".
Vitals
Given Name
David Schultz (goes by Dave to family and friends)
Current Location
SE Texas
Marital Status
Married 30+ years
Children
Five -- three girls and two boys
Danielle
Desiree
Dallas
Justin
Hope
Grandchildren
Three, with anther on the way
History
Childhood
Eldest of five boys and three girls who grew up in poverty living in a 2 bedroom apartment. Born in Michigan, but moved to Texas in 1961. Moved again to New Jersey in 1966, New York in 1970, and back to Texas after completion of Military service. Grew up with very little supervision, as his family was so large. His father always worked three minimum wage jobs concurrently, and his mother was too overwhelmed to keep up with all of the kids by herself -- so Dave pretty much grew up on the streets -- getting into a lot of trouble with the law as a kid. He always had a job of some type as a kid, from paper routes to washing dishes.
Siblings
Ray (deceased)
Doug
Dan
LaRee
Don
Terry
Dee
Education
Dave was a D/F student just getting by until leaving high school by mutual agreement at 16. He enlisted in the USAF shortly thereafter, and shipped off to basic training days after turning 17. The military was a turning point in Dave's attitude towards education, and he took studied for and pass his GED, and started taking college classes.
Dave later attended various colleges in the evenings under the GI Bill, with a main focus on business and computer science
Military Service
Dave enlisted in the USAF in 1972, shortly after turning 17, and was the youngest to be serving at the time he arrived to Basic Training in San Antonio, Texas. He spent three years active duty driving trucks, and exchanged his last year active for two years Active Reserves (under Palace Chase) to teach others to drive trucks. Dave spent the next ten years attending college in the evenings under the GI Bill. He is a service connected Vietnam Era disabled Veteran.
Employment Career
After he completed his military service, he (in order) drove taxi, Tractor-trailer, and dump truck; laid blacktop, roofed, and repo'd vacuum cleaners; was a bill collector, a carpet cleaning salesman, and a draftsman; a postage equipment repairman, a mailroom equipment salesman, and a computer repairman; a computer salesman, Executive VP of two large collection agencies, and owned a collections agency; owned a distress debt buying business, a software company, and a web hosting company; owned an race engine building company, and he now designs web sites.
Favorites
Favorite Quote
A democracy cannot exist as a permanent form of government. It can only exist until the voters discover that they can vote themselves largesse from the public treasury. From that moment on, the majority always votes for the candidates promising the most benefits from the public treasury with the result that a democracy always collapses over loose fiscal policy, always followed by a dictatorship. The average age of the world's greatest civilizations has been 200 years.
Great nations rise and fall. The people go from bondage to spiritual truth, to great courage, from courage to liberty, from liberty to abundance, from abundance to selfishness, from selfishness to complacency, from complacency to apathy, from apathy to dependence, from dependence back again to bondage.
Favorite Mopars
63 Chrysler Turbune
58 Desoto Adventurer
60 Plymouth Fury
65 Chrysler 300L Convertible 4-speed
Favorite Place to Travel
Maui, Hawaii
Favorite Place to Live
San Marcos, Texas
Halletsville, Texas
Favorite Person to Meet
Leonardo DiVinchi
Favorite car to Own
1939 Graham Sharknose Coupe
Favorite Movies
Casablanca
Sin City
Animal House
Caddy Shack
Lonesome Dove
Key Largo
To Have and Have Not
The Wall
Favorite Book
Atlas Shrugged - Ayn Rand
The Amateur - Edward Kline
Dereliction of Duty - Col Buzz Patterson
Courage and Consequence - Karl Rove
All Earle Stanley Gardner and AA Fair mysteries from the 30s-60s
Treason - Ann Coulter
Favorite Recent TV Series
Sopranos
Deadwood
Dallas
Simpsons
Homeland
Gotham
Tyrant
Family Guy
Favorite TV Show as a kid
Favorite TV Show as Teenager
Favorite Song
With or Without You - U2
Highway Patrolman - Johnny Cash
Favorite Singer
Favorite Band
Favorite Album
Favorite Sports Team
Favorite Charity
Favorite President
Ronald Reagan
Both of the Bush Presidents
Least Favorite Presidents
Woodrow Wilson
Jimmy Carter
I'd like to party hard all night with
Alice Cooper or Willie Nelson
Biggest Babe Ever
Morgan Fairchild
Shannon Breem
Heather Locklear
Ida Lupino
Ingrid Bergman
Elvira
Vivien Leigh
Cars & Trucks
Mopars Currently Own
Brand X's currently own
46 Olds Street Rod
63 Studebaker Mohawk
70 Mercury Cyclone GT
86 Buick Grand National
93 Cadillac Allante
94 Harley Heritage
99 Kawasaki Drifter 1500
06 Ford F350 King Ranch
11 Toyota Highlander (Wife's wheels)
11 Harley Electraglide Ultra (GeezerGlide)
Mopars owned in the past
Hobbies
Motorcycles
Drag Racing
Computers
Photography
Softball (too old and too beat to participate anymore)
Handguns
Woodworking
This is an example of a User Page
---
Every member has a User Page. Look at the leftmost link in the NavBar and you will see the link to yours. By creating your user page, you can quickly learn how to properly format text and photos, so you begin to collaborate with the Wiki on this site. Please begin working or your personal User Page.
---
Random Page | Longest Wikis | Oldest Wikis | Newest Images | Newest Wikis | List of Categories | List of Every Freakin Wiki
---
Register to Edit

It takes less than 5 minutes to request registration for editing, and we try to approve within 24 hours. Click the Register Link in the Top Bar.
MoparWiki Help

While editing Wikis may at first glance appear a little overwhelming, it really isn't. You will find this site's HELP (link found in the sidebar) to be very strong and easy to understand. The best way to start is with small edits and working on your user page -- and you will become a Pro in no time.
---