1971-1972 Dodge Demon
From MoparWiki
---
MoparWiki has Tested NEGATIVE for The Corona Virus!
---
Most of y'all are stuck home and bored. Why not register as a Member, create a MyWiki to get the handle of the Markup Language, and adopt an incomplete Wiki of interest and collaborate on it. Thank You - BK
---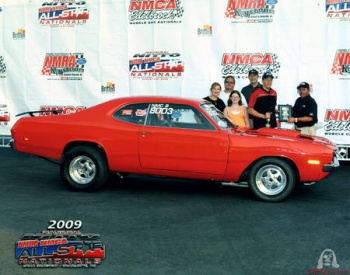 In 1970 Plymouth was given a new model made from the Valiant -- called the Duster. Dodge screamed foul and for 1971 they got their version, called the Demon. Southern Baptist screamed over the less than Holy name -- and for 1973 to 1976 the car lost its distinctive tail lights and was called the Dart Sport. The Demon was never produced in the numbers the Duster was, although it sold better than the Sport models. The Demon 340 actually replaced the Swinger 340 in 1971.
There is also a 2007_Demon_Concept, which has its own page.
1967-68 Dart 2-door sedan
Dart Sport and Sport 340/360
Chevrolet Nova
Pontiac Ventura
Oldsmobile Omega
Buick Apollo
Ford Maverick
Mercury Comet
AMC Hornet
2 Door Only
Economy
A-Body
225ci Slant Six
318ci Small Block
340ci Small Block
A-904 automatic
A-727 automatic
Three Speed Standard
A-833 Four Speed
1971
First year
Sizzler package as well as 340 package
Available through Grand Spaulding Dodge with Six Pack (Tri-Power) induction.
1972
Last year
Low compression 340, available through GSD with a Paxton supercharger
This Wiki requires References
---
The information in this wiki will have more creditability with some references to back it up
---
Register to Edit

It takes less than 5 minutes to request registration for editing, and we try to approve within 24 hours. Click the Register Link in the Top Bar.
MoparWiki Help

While editing Wikis may at first glance appear a little overwhelming, it really isn't. You will find this site's HELP (link found in the sidebar) to be very strong and easy to understand. The best way to start is with small edits and working on your user page -- and you will become a Pro in no time.
---