Dave Duell
From MoparWiki
---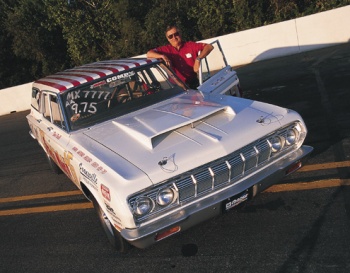 Summary
Many consider Dave Duell to be the Father of Nostalgia Super Stock racing, because of his organization of NSS Racing at the Monster Mopar Weekend. Following his death, the NSS racing portion of the Monster was renamed the Dave Duell Classic, which is currently administered by Dave's son Doug.
Duell was a longtime drag racer, and back in the heyday of '60s-era factory involvement, Duell had a 425-horse Max Wedge Dodge 440 wagon with horsepower courtesy "Akron Arlen" Vanke. This machine set NHRA national records and was one of only a handful of wagons that raced competitively in any form of racing. Vanke, the well-known Super Stock star, was involved in every aspect of the wagon, and Dave credits him greatly for the success garnered by the early Drag'n Wag'n. Though Duell's involvement with the automotive business would take him away from racing for many years, the memories remained.
After creating a '64 Max Wedge Sport Fury clone in 1990, he decided it was time to turn back the clock. His son Doug took over the controls on the two-door and Dave and his crew got down to business to create a near identical 64 Plymouth wagon, also called the Drag'n Wag'n.
Dave was instrumental in advancing Nostalgia Super Stock racing at the Monster Mopar Weekend each September, NSS was the only racing class at the Monster open to all makes of eligible cars.
Dave died of cancer on December 16, 2005.
Personal Data
Full Name:David Duell
Nickname:
DOB: August 10, 1038
Place of Birth: Lorain, Ohio
DOD: December 16, 2005
Place Interned:
Spouse: Sharon Duell
Children:
Childhood
looking for collaboration on this section

This Wiki is Needs Photos, and can use your help!
---
Please take a moment to add any Photo you might have on this topic. It is through this type of Member collaboration that the MoparWiki will grow into being the Ultimate Mopar Infobase. The links contained in the Understanding Wikis box in the sidebar can help you get started.
Education
Worked through high school and until 1963 for Spitzer Motors in Lorain, Ohio and Columbus, Ohio
Worked for Chrysler Corporation from 1965 to 1980.
Graduated Lorain High School 1956
Attended The Ohio State University in Columbus, Ohio
Important Accomplishments
Bought Evansville Chrysler in Evansville, In and turned it into a successful business until his death in 2005.
Served as President of Santa Clothes Club, a local charity that provides needy children with warm winter clothing for 20 years.
Epilogue
Dave's son Doug Duell has stepped into Dave's shoes by running and expanding the Evansville dealerships (2) that include Mazda, Kia, Volvo, and Hundai; restored Dave's Drag'n Wag'n and raced it to multiple Point's Championships; administers to the annual race called the Dave Duell Classic, and serves on the board of Santa Clothes.
References
This Wiki requires References
---
The information in this wiki will have more creditability with some references to back it up
Related Links
---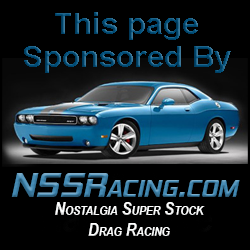 Random Page | Longest Wikis | Oldest Wikis | Newest Images | Newest Wikis | List of Categories | List of Every Freakin Wiki
---
Register to Edit

It takes less than 5 minutes to request registration for editing, and we try to approve within 24 hours. Click the Register Link in the Top Bar.
MoparWiki Help

While editing Wikis may at first glance appear a little overwhelming, it really isn't. You will find this site's HELP (link found in the sidebar) to be very strong and easy to understand. The best way to start is with small edits and working on your user page -- and you will become a Pro in no time.
---