Billy 'the kid' Stepp
From MoparWiki
---
Intro
One of drag racing's more colorful figures Stepp, who hailed from Dayton Ohio ran a string of highly successful "Billy the Kid" ProStock cars, from 1970 thru the mid 90's -
1969 & 70 were huge years for the newly formed Pro Stock class and Bill Stepp wanted to be a part of it. So Bill began his quest to become a dominant force in ProStock racing. With his "Billy the Kid" stable of drivers reading like a "who's who" that included Ronnie Sox, Don Carlton, Dick Humpbert even Herb McCandless for one race, Bill achieved more than he set out to do.
His mainstay drivers, were Stu McDade early on, then Bobby Yowell, who burst onto the drag racing scene in the late 1960's in NHRA's E-Sports Class then in '71 graduated to NHRA ProStock racing, fielding a Sox & Martin prepared Hemi-Duster - doing quite well at the NHRA Spring Nationals at National Trail, Columbus Oh. Later in the mid to late 70's, Bill utilized the talents of North Carolina ProStock racer Melvin Yow.
Horsepower was made through the capable hands of Dayton native, ace mechanic and engine builder, Paul Frost. Paul was fresh off the gasser wars where he applied his trade during the 60's, trading lanes with the likes of another Dayton native, Ohio George Montgomery. Frost knew how to make power, it was just getting it to the ground that perplexed him and most of the gassers including his potent Purple'41 Willys AA/supercharged coupe that ran an incredible 50-60 match races in one season. Stepp brought Frost into the fold and now had himself a cadre of battle hardened veterans that eventually ran "rough shod" across the Midwestern, Southern and Eastern drag strips, picking up races in all the sanctioning bodies wherever they could.
Stepp was a member of a strong Mopar contingent lead by Sox & Martin who were always at the top of the field in the Super Stock ranks and never skipped a beat when they entered ProStock in 1970. When the S&M team cars weren't winning, their closest followers were guys like Don Carlton in the Motown Missile, Butch "the California Flash" Leal (believe it or not Butch was another Ohio guy originally from Blacklick OH - later moving to California) and Stu McDade in the Billy the Kid Stepp Challenger.
Through the years Bill's stable of cars never really popped the cork in the NHRA points races, except for the '71 US Nationals final round loss to Ronnie Sox, but they made up for it in the IHRA.
Stepp ran a Demon for '70 & '71, then switched to Duster and Demons for '72 thru '75, an Arrow & Colt thru '78 - before building an Avenger for the 1995 season.
The "Wanted Dead or Alive" Mopars saw success in the IHRA in '78 & '79 with (4) ProStock final rounds, winning the '79 ProAm Nationals at the "Rock" in Rockingham, but moreover, made monster money along the match race trail.
This Wiki is Needs Photos, and can use your help!
---
Please take a moment to add any Photo you might have on this topic. It is through this type of Member collaboration that the MoparWiki will grow into being the Ultimate Mopar Infobase. The links contained in the Understanding Wikis box in the sidebar can help you get started.
Personal Data
Full Name: William Elias "Bill" Stepp
Nickname: Billy The Kid Stepp
DOB: 1935
Place of Birth: Peebles, Adams County, Ohio.
DOD: Nov. 27, 2008
Place Interned:
Spouse: Lucy
Children: daughter...(Nina) Son... (William Jr.)
Childhood
This Wiki is Under Construction, and can use your help!
---
Please take a moment to add any information you might have on this topic. It is through this type of Member collaboration that the MoparWiki will grow into being the Ultimate Mopar Infobase. The links contained in the Understanding Wikis box in the sidebar can help you get started.
Stepp, the son of an Appalachian lay minister in Highland County (Va), had several siblings, including younger brother Ernest Emoliver Stepp — a member of his gang. "As a very young boy, his father used to take Bill down to the Cincinnati riverfront docks and bet on him in fights against older adults," Hills said. "Bill was a very, very physically strong man.... He was an outstanding street fighter." Which of course might come in handy in the wrong type of work, but Stepp was also smart. "Bill ... had a very special knack to ingratiate himself," Hills said. "He was a very polite person and very gracious and well spoken. He knew how to size up people and how to get close to them."
Education
looking for a little collaboration

Important Accomplishments
1* Of all the cars that Stepp had, the crowd favorite was his Hemi-powered Colt , which was a former Sox & Martin car. These machines were some of the wildest door-slammers ever allowed on the track. They were banned from Pro Stock racing after a couple of drivers lost their lives in accidents blamed on the ultra-short wheelbase, Don Carlton being one. Stepp picked up the car from Sox and knew he could market it to the midwest match race booking agents as one of the few Colts banned from the NHRA, that of course became advertising "juice" that drove in crowds. "....See the only car banned by the NHRA, the wild and uncontrollable Billy the Kid's Dodge Colt....." screamed the Top 40 DJ's on radio stations in every Midwest market. Bobby Yowell drove this car beginning in 1974 and ran incredible 8.42 @ 160.92 eventually wrecking it when a crew member forgot to unlatch the wheelie bars and it flipped repeatedly at Bristol, Tennessee.
Epilogue
1 In a 1973 Dayton Daily News sports story, "It is evident that Billy has a sense of
humor about his other reputation. Painted in gold-flaked letters on the doors of his cars is his nickname, 'Billy the Kid.' Very faintly visible in a slightly lighter shade of purple under the nickname are the letters, WANTED
2 There is a funny story regarding the photograph in the cemetery from Nina, Stepp's daughter, of her dad and the crew dressed as mafia.
Paul Frost, Stu McDade, Stepp and some model went to the cemetery to have some pictures taken. When they were finally developed she looked at it and started laughing. She said to Stepp, "Only you would have thought of that", he said, "I thought it would be funny to dress mafia."
She then said, No, the monument, the tombstone that was when he looked to the right of Paul Frost and engraved on one of the standing tombstones is the name Stept
Stepp never planned this part of the photo...it just happened!
References
This Wiki requires References
---
The information in this wiki will have more creditability with some references to back it up
Related Links
---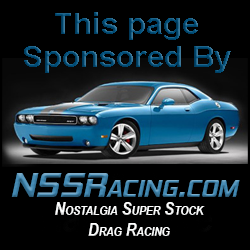 Random Page | Longest Wikis | Oldest Wikis | Newest Images | Newest Wikis | List of Categories | List of Every Freakin Wiki
---
Register to Edit

It takes less than 5 minutes to request registration for editing, and we try to approve within 24 hours. Click the Register Link in the Top Bar.
MoparWiki Help

While editing Wikis may at first glance appear a little overwhelming, it really isn't. You will find this site's HELP (link found in the sidebar) to be very strong and easy to understand. The best way to start is with small edits and working on your user page -- and you will become a Pro in no time.
---