Ronnie Sox
From MoparWiki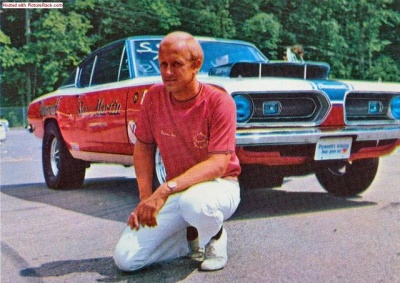 Introduction
Long Regarded as the greatest of the four speed drag racers, Ronnie Sox won many NHRA and IHRA Championships and was the AHRA's Driver of the Year in 1968. He was the "Sox" part of the famous Sox and Martin team, with partner Buddy Martin.
Ronnie started racing at the local tracks in North Carolina in the 1950s, driving a Chevrolet. He switched to Mercury in the early 60s, but is most known for being a Plymouth sponsored driver, where his razor sharp shifting of the 4-speed gave him the arguably reputation of being the best. When a rule change allowing the clutchless Lenco transmission was made in 1973, Ronnie Sox was virtually the only driver to lose ground (.04 seconds), thus taking away his edge.
Personal Data
Full Name:
DOB: 1938
Place of Birth:
DOD: April 22, 2006
Place Interned:
Spouse: Diane Sox
Children:
Childhood
looking for some collaboration

Education
looking for some collaboration

Important Accomplishments
looking for some collaboration

Epilogue
looking for some collaboration

Ronnie Sox died of prostate cancer in 2006 at 67 years old. His wife Diane Sox now honors his memory with the Ronnie Sox Foundation, which contributes to St. Jude Hospital for Children -- Ronnie's favorite Charity.
References
Related Links
Register to Edit

It takes less than 5 minutes to request registration for editing, and we try to approve within 24 hours. Click here to register
MoparWiki Help

While editing Wikis may at first glance appear a little overwhelming, it really isn't. You will find this site's HELP (link found in the sidebar) to be very strong and easy to understand. The best way to start is with small edits and working on your user page -- and you will become a Pro in no time.