Big Willie Robinson
From MoparWiki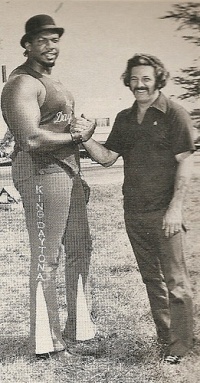 Summary
"Big Willie" Andrew Robinson III is a legendary street racer and was the owner of the King Daytona Hemi Daytona. He or his wife have also owned a Charger funny car, a Roadrunner, and the Queen Daytona Hemi Daytona.
Personal Data
Full Name: Andrew Robinson III
Nickname: Big Willie (also sometimes spelled Big Willy)
DOB: 1942
Place of Birth:
DOD: May 19, 2012
Place Interned:
Spouse: Tomiko Smith Robinson (deceased)
Children:
Childhood
Education
Big Willie Robinson has some college education. He originally attended LSU as a pre-med student, but had his car vandalized and he then decided to move to Los Angeles and attend UCLA until family finances and his parents getting divorced forced him to drop out. He was then drafted by the US Army.
Important Accomplishments
Big Willie Robinson became a decorated Green Beret in the US Army. Along with the Los Angeles Police Department organized street racing in a successful attempt to avoid a repeat of the Watts Riots.
Epilogue
References
Related Links
Register to Edit

It takes less than 5 minutes to request registration for editing, and we try to approve within 24 hours. Click here to register
MoparWiki Help

While editing Wikis may at first glance appear a little overwhelming, it really isn't. You will find this site's HELP (link found in the sidebar) to be very strong and easy to understand. The best way to start is with small edits and working on your user page -- and you will become a Pro in no time.