King Daytona
From MoparWiki
---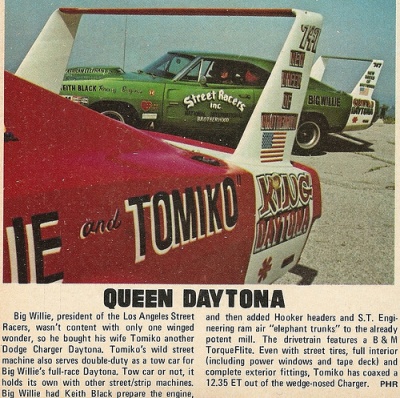 The "King Daytona" was a Dodge Hemi Daytona given to Big Willie Robinson by the boss of Warren Fox Dodge during 1969 in exchange for simply putting the dealer's name on the quarter panel, and it appeared in the movie Two Lane Blacktop before it was acid dipped and destroyed due to Big Willie telling the person doing the acid dipping to wait a little bit longer. Despite this fact, it has been reported that John Tuttle scammed a person out of $200,000 dollars by selling him Big Willie's original "King Daytona."
I've seen elsewhere that it was also referred to as the African Elephant. Need to look into this.  BK

References
---
Random Page | Longest Wikis | Oldest Wikis | Newest Images | Newest Wikis | List of Categories | List of Every Freakin Wiki
---
Register to Edit

It takes less than 5 minutes to request registration for editing, and we try to approve within 24 hours. Click the Register Link in the Top Bar.
MoparWiki Help

While editing Wikis may at first glance appear a little overwhelming, it really isn't. You will find this site's HELP (link found in the sidebar) to be very strong and easy to understand. The best way to start is with small edits and working on your user page -- and you will become a Pro in no time.
---