Barracuda
From MoparWiki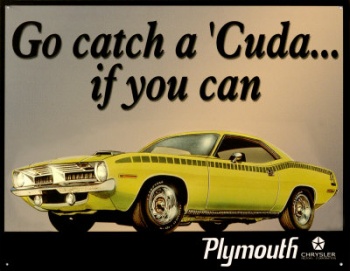 In 1964, Plymouth created a sportier version of their compact/economy Valiant at about the same time as Ford created the sportier Mustang from their compact economy Falcon. These became to be known as Pony Cars.
In 1964, the Barracuda was created to go after the youth market, with the base for it being the Plymouth Valiant. Initially it was essentially the same car as the Valiant, but with an extreme fastback roof. It competed with the Ford Mustang, which was a sportier car created from the mundane Falcon. A few years later Chevrolet introduced the Camaro, and Pontiac the Firebird to complete with the Mustang and Barracuda. These were referred to as Pony Cars. These cars quickly gained small block V8s as the Muscle Cars became big sellers with American youth, and they started to distance themselves from their humble economy car beginnings.
With the Horse Power Wars heating up in the late 60s, car manufacturers were trying to stuff big block engines into these cars, which was a real struggle with the A-Body Barracuda. For drag racing, the Barracuda and its sister car the Dodge Dart shoehorned 426ci Hemi into the engine bay in 1968-1968, for a limited number handed out to a select few big name racers. These cars were not street legal, but still hold NHRA records today. For the street Barracudas, a 440 was shoehorned into a limited number of Barracudas in 1969, and called the Cuda. 1969 was the last year for the Barracuda/Cuda to be on the A-Body Platform
In 1970, the Barracuda debuted on the E-Body platform, which was essentially a shortened B-Body. It made it much easier to place big block engines, including the Hemi, in the cars. 1970 and 1971 big blocks are the most collectible of the Barracudas/Cudas. In 1972, the insurance companies and the Government had all but killed the muscle car -- and smog emission and lower compression reduced power. The last few years the Barracuda didn't even offer a big block, and in 1974 the last Barracuda rolled off the assembly line.
While there was no direct successor feel like the Mitsubishi built Plymouth Sapporo was as close as Plymouth ever got to filling the niche vacated with death of the Barracuda
Ford Mustang
Chevrolet Camaro
Pontiac Firebird
Dodge Dart GTS
Dodge Challenger
Could use some help on the above with years & models offered

1964-1965, 188.2 inches
1966, 188.3 inches
1967-1969, 192.8 inches
1970, 186.7 inches
1971-72, 186.6 inches
1973, 193 inches
1974, 195.6
1964-1966, 106 inches
1967-1974, 108 inches
1964
1965
Engine
The standard engine in 1965 was a 225 cubic inch Slant Six rated at 145 horsepower. Two V8 engines from Chrysler's LA-Series were also available as options. One could either get a two-barrel carburetor 273 cubic inch engine that produced 180 horsepower and 260 lbs-ft. of torque or the Commando 273 rated at 235 horsepower. The Commando 273 was available through the Rallye Pack option and or the Formula S package and contained a four barrel carburetor.
Transmission
The standard transmission was a three speeed manual. Optional transmissions were either a console-shifted Torqueflite Automatic or a floor-mounted four-speed manual transmission which had Hurst linkage.
1966
1967
1968
1969
1970
1971
1972
1973
1974
Hemmings Motor News September 2010 page 14
Collectible Automobile February 2014 (Excellent 12-page article on E-Body Barracudas)
Register to Edit

It takes less than 5 minutes to request registration for editing, and we try to approve within 24 hours. Click here to register
MoparWiki Help

While editing Wikis may at first glance appear a little overwhelming, it really isn't. You will find this site's HELP (link found in the sidebar) to be very strong and easy to understand. The best way to start is with small edits and working on your user page -- and you will become a Pro in no time.