Sapporo
From MoparWiki
---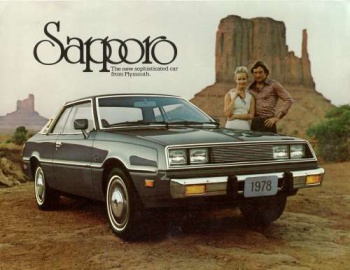 The Mitsubishi Sapporo was a two-door hardtop coupe built by Mitsubishi Motors from 1976 to 1983. From 1978 it was exported under various names such as the Mitsubishi Lambda, the Dodge Challenger and the Plymouth Sapporo. These models made their way to North America and Puerto Rico. It was also known as the Chrysler Scorpion and later as the Mitsubishi Scorpion in Australia. Even further, it was sold as a Sapporo in the United Kingdom under the Colt brand. As if things could not get any more convoluted, Mitsubishi resurrected the 'Sapporo' name in 1987. This was for their Mitsubishi Galant Sapporo, but this was in fact an unrelated front-wheel drive, four-door sedan.
The original Sapporo was introduced in Japan in December 1976, and was not described as a coupe but as a "personal luxury car". This was in response to the fact that Mitsubishi already had the Lancer-based Celeste coupe in its line-up. Across the ocean, in Australia, the car was imported from Japan as a flagship model to Chrysler Australia's highly successful Sigma range. However, the car was marketed in North America as an import of the Dodge and Plymouth divisions of Chrysler. The model only differed in minor details such as taillights, interior trim and available colors. Oddly, despite being mechanical twins, the Dodge was marketed to appeal to the performance market while the Plymouth was aimed at the luxury market. By the mid 1970s, smaller luxury cars were a growing trend, and were following in the success of the Cadillac Seville. In an attempt to tap into this market, the Sapporo featured frameless door glass, canopy vinyl roofs, velour interiors, luxury wheel covers with whitewall tires and every possible power accessory. This was a fairly successful tactic although it is always much better to be at the forefront than to be the follower.
This Wiki is Under Construction, and can use your help!
---
Please take a moment to add any information you might have on this topic. It is through this type of Member collaboration that the MoparWiki will grow into being the Ultimate Mopar Infobase. The links contained in the Understanding Wikis box in the sidebar can help you get started.
19xx
19xx
19xx
19xx
19xx
---
Random Page | Longest Wikis | Oldest Wikis | Newest Images | Newest Wikis | List of Categories | List of Every Freakin Wiki
---
Register to Edit

It takes less than 5 minutes to request registration for editing, and we try to approve within 24 hours. Click the Register Link in the Top Bar.
MoparWiki Help

While editing Wikis may at first glance appear a little overwhelming, it really isn't. You will find this site's HELP (link found in the sidebar) to be very strong and easy to understand. The best way to start is with small edits and working on your user page -- and you will become a Pro in no time.
---