A-body
From MoparWiki
---
MoparWiki has Tested NEGATIVE for The Corona Virus!
---
Most of y'all are stuck home and bored. Why not register as a Member, create a MyWiki to get the handle of the Markup Language, and adopt an incomplete Wiki of interest and collaborate on it. Thank You - BK
---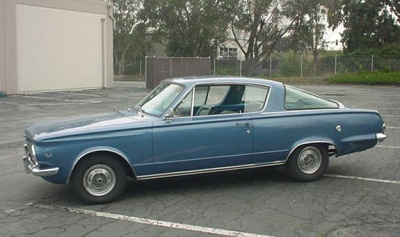 Summary
A-body was the Mopar designation given to the rear wheel drive platforms for the compact cars built between 1960-1976, and Pony Cars built between 1964-1969. There was also a FWD Platform in the 1990's that used the designation of A-Body. It was a variation of the K-Car and discussed there.
Wheelbases:
106.5 in
1960-1962 Valiant, Chrysler Valiant, & Plymouth Valiant (worldwide)
1961-1962 Dodge Lancer
1961-1963 DeSoto Rebel (South Africa)
106 in
1963-1966 Plymouth Valiant (USA, Mexico, Europe)
1964-1966 Plymouth Barracuda
1963-1966 Dodge Dart wagon
1965 Valiant V100, Custom 100 (Canada)
108 in
1967-1973 Plymouth Valiant
1967-1969 Plymouth Barracuda
1970-1976 Plymouth Duster
1971-1972 Dodge Demon
1973-1976 Dodge Dart Sport
111 in
1963-1966 Chrysler Valiant (Argentina, Brazil)
1971-1976 Plymouth Scamp
1974-1976 Plymouth Valiant
1963-1976 Dodge Dart
1963-1964 & 1966 Chrysler Valiant (Canada)
1965 Valiant V200, Custom 200 (Canada
The Mopar A-Body was replaced with the F-Body
References