Mr. Norm Krause
From MoparWiki
---
MoparWiki has Tested NEGATIVE for The Corona Virus!
---
Most of y'all are stuck home and bored. Why not register as a Member, create a MyWiki to get the handle of the Markup Language, and adopt an incomplete Wiki of interest and collaborate on it. Thank You - BK
---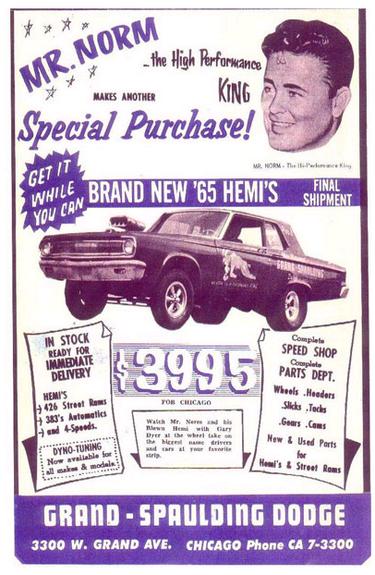 Summary
"Mr. Norm" Krause was the more famous brother at Grand Spaulding Dodge.
Located in Chicago, Mr. Norm's Grand-Spaulding Dodge was the home of Dodge performance during the muscle car era. "Mr. Norm," alias Norman Kraus, along with his brother Lenny, started a used car lot next to their father's gas station. After specializing in late '50s stick shift performance cars (they used the line "Call Mr. Norm" in their classified ads and the name stuck), they were approached by Dodge to open a new car dealership. They initially passed, but when they heard about the Max Wedge performance cars, they agreed and opened the dealership in October of 1962. Their advertising was targeted at the young performance fan, and they created the "Mr. Norm's Sport Club" to fuel the fire.
Sales doubled each year for the first seven years and by 1966, Grand-Spaulding Dodge was the biggest performance Dodge dealership and by 1972, Dodge's largest dealer. A second location in Buffalo Grove soon became the number two Dodge dealer. Grand-Spaulding Dodge led Dodge's performance efforts. In 1967, the dealership started selling Dart's with the 383 big block, something that Dodge had said couldn't be done. By basically coping Grand-Spaulding's modifications, Dodge was able to introduce a 383 Dart by late 1967. Then, Grand-Spaulding Dodge began offering Darts with 440 engines, the so-called "GSS" conversions. In 1969, Dodge began to offer its own 440 Darts. One car that Dodge did not follow suit was the 1972 Demon GSS with its supercharged 340. It's 13.9 second quarter mile was evidently more performance than Dodge wanted to offer. Unfortunately, Grand-Spaulding's dependence on the high performance market, as well as allegations of odometer tampering on used cars, made it vulnerable when the performance era ended in 1973 and the dealership closed its doors in 1975.
This Wiki is Under Construction, and can use your help!
---
Please take a moment to add any information you might have on this topic. It is through this type of Member collaboration that the MoparWiki will grow into being the Ultimate Mopar Infobase. The links contained in the Understanding Wikis box in the sidebar can help you get started.
Personal Data
Full Name:Norman Krause
Nickname: Mr. Norm
DOB: 1936
Place of Birth:
DOD:
Place Interned:
Spouse:
Children:
Childhood
Education
Important Accomplishments
Epilogue
References
This Wiki requires References
---
The information in this wiki will have more creditability with some references to back it up
Related Links
---
Register to Edit

It takes less than 5 minutes to request registration for editing, and we try to approve within 24 hours. Click the Register Link in the Top Bar.
MoparWiki Help

While editing Wikis may at first glance appear a little overwhelming, it really isn't. You will find this site's HELP (link found in the sidebar) to be very strong and easy to understand. The best way to start is with small edits and working on your user page -- and you will become a Pro in no time.
---