Dodge Shadow
From MoparWiki
---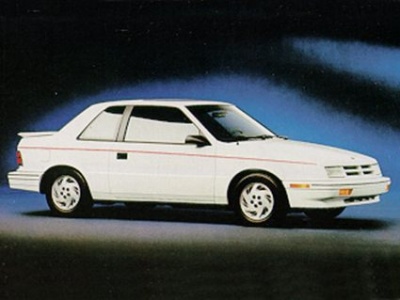 The Dodge Shadow and its badge engineered variant Plymouth Sundance were available as a 2-door coupe and 4-door hatchbacks; and a convertible. The models employed a variant of the K-car platform, the P-body.
Background
The FWD Shadow offered a variety of four-cylinder engines, all either of 2.2 or 2.5 L, some turbocharged. Naturally aspirated versions were fuel injected, except those sold in Mexico. The engines were tuned for torque rather than horsepower, resulting in numbers that appear to be reversed from the Honda Civic - for exampl]e, 93 hp and 112 pound-feet of torque from the base 2.2 L engine. A Mitsubishi-built 3.0 L V6 was added later, replacing the turbocharger engines. All engines were available with a five-speed manual transmission (sourced from Getrag on turbocharged and V6 models) and a three-speed automatic based on the venerable TorqueFlite. In 1993, the manual transmission was modified to make shifting into reverse easier; a number of other incremental improvements were also made.
Model Predecessor
Model Successor
Export Version(s)
Related Corporate
Direct Competition
Technical
Price Class
Platform
Available Engines
2.2 L I4 - 93 hp and 112 pound-feet of torque
2.2 L turbocharged I4 - 146 hp and 170 pound-feet of torque
2.5 L I4 - 100 hp and 135 pound-feet of torque
2.5 L turbocharged I4 - 152 hp (113 kW) and 185 pound-feet (251 N·m) of torque
3.0 L V6 - 141 hp and 171 pound-feet of torque
Available Transmissions
Transmission 5-speed manual
3-speed A413 automatic
4-speed A604 automatic
Overall Length
Length 1987-1992: 171.7 in
1993-94: 97.0 in
Overall Width
63.7 in
Height
1987-88: 52.7 in (1,339 mm)
1990-92: 53.0 in (1,346 mm)
1993-94: 53.1 in (1,349 mm)
Wheelbase
Front/Rear Track
Curb Weight
2,608 lb (2-door Hatchback)
2,643 lb (4-door Hatchback)
Famous Examples of This Model
Movies
TV Series
Racing
Owner/Driver Impressions
Name of Reviewer
References
Books & Magazines
Internet
---
Random Page | Longest Wikis | Oldest Wikis | Newest Images | Newest Wikis | List of Categories | List of Every Freakin Wiki
---
Register to Edit

It takes less than 5 minutes to request registration for editing, and we try to approve within 24 hours. Click the Register Link in the Top Bar.
MoparWiki Help

While editing Wikis may at first glance appear a little overwhelming, it really isn't. You will find this site's HELP (link found in the sidebar) to be very strong and easy to understand. The best way to start is with small edits and working on your user page -- and you will become a Pro in no time.
---