C body
From MoparWiki
---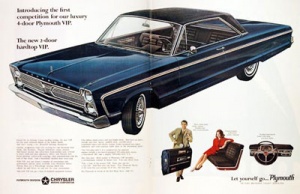 C Body
Chrysler's C platform was the basis for rear wheel drive full-size cars from 1965 to 1978. Although often misclassified, 1964 and earlier full-size Chrysler products, and 1973 and earlier Imperials are not C-bodies. For 1979, the C-Body was replaced by the R-Body. There was also a FWD Platform in the 1990's that used the designation of C-Body. It was a variation of the K-Car and discussed there.
Cars using the C Platform include:
Wheelbases:
119 in
121 in
1965-1966 Plymouth wagons
1965-1966 Dodges
1965-1966 Chrysler wagons
122 in
1967-1973 Plymouth wagons
1967-1973 Dodges
1967-1973 Chrysler wagons
120 in
1969-1973 Plymouths (except wagons)
1974 Plymouth Fury I/II
124 in
1974-1977 Plymouth and Dodge wagons
1965-1978 Chrysler sedans
1974-1978 Chrysler wagons
1974-1975 Imperials
121.5 in
1975-1977 Plymouths (except wagons)
1974-1977 Dodges (except wagons)
References
Related Links
---
Random Page | Longest Wikis | Oldest Wikis | Newest Images | Newest Wikis | List of Categories | List of Every Freakin Wiki
---
Register to Edit

It takes less than 5 minutes to request registration for editing, and we try to approve within 24 hours. Click the Register Link in the Top Bar.
MoparWiki Help

While editing Wikis may at first glance appear a little overwhelming, it really isn't. You will find this site's HELP (link found in the sidebar) to be very strong and easy to understand. The best way to start is with small edits and working on your user page -- and you will become a Pro in no time.
---