Walter P. Chrysler Museum
From MoparWiki
---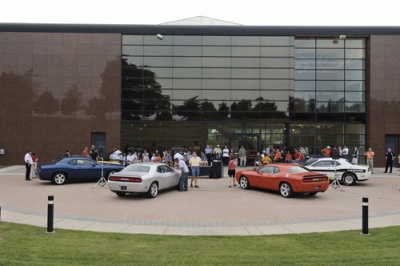 Intro
The Walter P. Chrysler Museum is a nonprofit repository of Chrysler heritage, spotlighting the company's influence on the automotive industry and the automobile's impact on American culture. It operates as an historical attraction and educational institution.
Location
The Walter P. Chrysler Museum is located on the Chrysler headquarters complex in Auburn Hills, Michigan, approximately 30 miles north of downtown Detroit. Easily accessible from I-75 at exit 78 (Chrysler Drive), the Museum is located at the southeast corner of the complex, at the intersection of Featherstone and Squirrel Roads.
The Walter P. Chrysler Museum is a Point of Interest on most GPS navigation systems, including factory-installed systems in all new-model Chrysler, Jeep® and Dodge vehicles.
Hours
Tuesday – Saturday: 10 a.m. – 5 p.m.
Sunday: noon – 5 p.m.
Closed:
Every Monday,
January 1,
Easter Sunday,
July 4,
Thanksgiving and the Wednesday before
December 24, 25 and 31
Admission
$8 General admission
$4 Juniors (6 – 12 years)
$7 Seniors (62 and older)
$4 Tour groups of 15 or more (with advance registration)
$3 & $5 School groups (elementary – high school)
Admission is free for children five and under
Background
The Walter P. Chrysler Museum operates within the Walter P. Chrysler Museum Foundation, a public charity described in 501 (c)(3) of the Internal Revenue Code. The foundation received its nonprofit status on February 1, 2008. Contributions to the Walter P. Chrysler Museum Foundation are tax-deductible.
Opened October 5, 1999, the Walter P. Chrysler Museum documents the cars, the people, the processes and the contributions made by Chrysler and its forebears to the development of the automobile.
Ground was broken for the Museum on November 19, 1996. Giffels Associates, Inc., an architectural and engineering firm in Southfield, Mich., designed the building.
The three-story, 55,000 square foot Museum covers 10 acres at the southeast edge of the Chrysler Headquarters Complex.
Highlights
At the Walter P. Chrysler Museum, more than 70 antique, custom and concept vehicles that span a century celebrate the proud American heritage of an automotive original.
Three floors of vehicles, interspersed with interactive displays and exhibits, tell the story of the Chrysler Corporation and its contributions to automotive design, technology and innovation, as well as the automobile's impact on American culture.
The first floor traces the industry's first 50 years from Chrysler's perspective – both the man and the company. Rare vehicles date back to the early 1900s and a timeline wall details the key executives and predecessor companies that shaped today's Chrysler. The vintage collection includes such historic marques as DeSoto, Hudson, Nash, Rambler and Willys-Overland.
The second floor continues Chrysler's story, beginning with the introduction of the HEMI® in 1951 and spotlighting the automaker's design, engineering and marketing successes. The collection of Chrysler, Jeep® and Dodge concept and production vehicles illustrates decades of vehicle styling brilliance, the electronic age of transistors, Mopar® Muscle, turbine technology, the family transportation revolution and leadership in safety and fuel economy.
The lower level, called "Boss Chrysler's Garage," houses dream machines from the '50s – '70s, including classic and muscle cars from the heyday of cruising to one-of-a-kind record-setting race vehicles. The Garage also features a series of Jeep® vehicles and an eclectic sampling of vehicles from the Chrysler collection.
The Museum also features:
• Oversized banners featuring dynamic imagery, vintage advertising and synopses of automotive eras showcasing Chrysler's earliest offerings through more recent models. Graphics also highlight corporate milestones and world, economic and social events that place Chrysler's evolution in American historical context.
• Newsreel-style video kiosks highlighting important historic and social world events since the 1920s.
• Life-size vignettes depicting key moments in Walter Chrysler's life as well as World War II.
• Three continuously running short movies spotlighting Walter Chrysler's life and times, muscle cars of the '50s and '60s and new vehicle development within the Chrysler Technology Center.
• A gift shop brimming with Chrysler, Jeep®, Dodge, Hudson, Mopar® and Plymouth brand collectibles and souvenirs. Enthusiasts can choose from a changing array of various size scale models (many highlighting Museum exhibition vehicles), apparel, jewelry, home and office accessories, books, posters, signs, toys, videos/DVDs, CDs and more.
The Museum's gift shop also features the Chrysler Design Gallery, which includes exclusive die-cast models of vehicles in the Museum collection, original automotive sculptures and illustrations of concept and production vehicles from the Chrysler Design Studios.
Contacts
Mailing Address: One Chrysler Drive CIMS 488-00-00 Auburn Hills, MI 48326-2778 USA
Phone: 888-456-1924 (toll free, U.S. only) 248-944-0001
Fax: 248-944-0460
Receive Museum program and event news via e-mail! Send your name and e-mail address to info@wpchryslermuseum.org.
Manager: manager@wpchryslermuseum.org
Archives: archives@wpchryslermuseum.org fax: 313-252-2928
Donations: donations@wpchryslermuseum.org phone: 248-944-0432
Education: education@wpchryslermuseum.org phone: 248-944-0029
Facility Rental: rentals@wpchryslermuseum.org phone: 248-944-0439
Gift Shop: giftshop@wpchryslermuseum.org phone: 284-944-0434
Group Tours: grouptours@wpchryslermuseum.org phone: 248-944-0450
Media: media@wpchryslermuseum.org phone: 586-939-3429
Membership: membership@wpchryslermuseum.org phone: 866-836-0105
Public Events: events@wpchryslermuseum.org Phone: 248-944-0001
Volunteers: volunteers@wpchryslermuseum.org phone: 248-944-0438
Web Site: webteam@wpchryslermuseum.org
References
This Wiki requires References
---
The information in this wiki will have more creditability with some references to back it up
---
Random Page | Longest Wikis | Oldest Wikis | Newest Images | Newest Wikis | List of Categories | List of Every Freakin Wiki
---
Register to Edit

It takes less than 5 minutes to request registration for editing, and we try to approve within 24 hours. Click the Register Link in the Top Bar.
MoparWiki Help

While editing Wikis may at first glance appear a little overwhelming, it really isn't. You will find this site's HELP (link found in the sidebar) to be very strong and easy to understand. The best way to start is with small edits and working on your user page -- and you will become a Pro in no time.
---