The Beams (Drag Racing)
From MoparWiki
---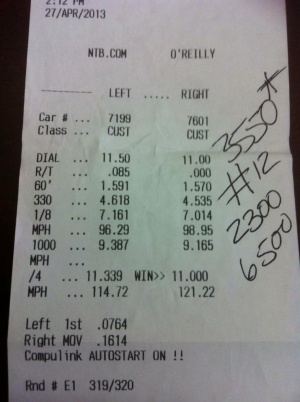 This Wiki is Under Construction, and can use your help!
---
Please take a moment to add any information you might have on this topic. It is through this type of Member collaboration that the MoparWiki will grow into being the Ultimate Mopar Infobase. The links contained in the Understanding Wikis box in the sidebar can help you get started.
Definition
As it applies to drag racing, the beams refers to a light beam projected across a lane of a drag strip. A race car's front tires breaks this beam when it crosses it for a timing event. On a 1/4 miles drag strip, there will be a beam for:
Lighting the prestaging lights
Lighting the staging lights
The start of the race
The 60' mark
The 330' mark
The 1/8 mph calculation start
The 1/8 mile mark
The 1000' mark
The 1/4 mile mph start
The 1/4 mile finish line
This is used to record timing on the racer's Time Slip.
See the Drag Racing 201 wiki for more information
---
Random Page | Longest Wikis | Oldest Wikis | Newest Images | Newest Wikis | List of Categories | List of Every Freakin Wiki
---
Register to Edit

It takes less than 5 minutes to request registration for editing, and we try to approve within 24 hours. Click the Register Link in the Top Bar.
MoparWiki Help

While editing Wikis may at first glance appear a little overwhelming, it really isn't. You will find this site's HELP (link found in the sidebar) to be very strong and easy to understand. The best way to start is with small edits and working on your user page -- and you will become a Pro in no time.
---