Jeep Forward Control Trucks
From MoparWiki
This is a topic is requiring information contributions. Click the Edit links to the right or tab at the top (seen by those logged in) to add or edit. A wiki topic is a collaboration by many people adding as little of as much as they wish, to season a topic.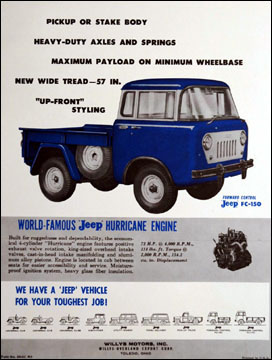 In a Nutshell:
Willys built Forward Control Jeep Trucks from 1957-1964. They were relatively small four-wheel-drive field trucks. Design was by the Industrial Designer Brooks Stevens, who would later freshen up the Studebaker Hawks into the GT Hawks. --Old Hippie 12:04, 20 April 2008 (EDT)
History:
Jeep's Forward Control Trucks were built from 1957 through 1964 in two basic models. The 150 was built on a 81-inch-wheel base, and a few months later it was joined by the 170, which rode on a 103.5-inch-wheel-base. They became referred to as the FC-150 and the FC170 -- with FC standing for "Forward Control. They were similar in design to Dodge's A-100 pickup. --Old Hippie 12:05, 20 April 2008 (EDT)
Technical:
The engine was a F-head four-cylinder engine delivering 75-bhp. Interior was sparse and functional looking. 1959 to 1961 had the addition of a FC-170 DRW, which was a "Dual Rear Wheel" (today referred as a Dually) version.--Old Hippie 12:05, 20 April 2008 (EDT)
This Wiki is well underway, but can still use your help!
---
Please take a moment to add any small amount of information that you might have on this topic. It is through this type of collaboration that the MoparWiki will grow into being the Ultimate Mopar Infobase. Please fill in any missing information you know to be factual. Correct any you know to be inaccurate.
Specifications:
Production Numbers:
Jeep Forward Control Production 1957-1965

1957
FC-150 6,637
FC-170 3,101
1958
FC-150 2,072
FC-170 1,522

1959
FC-150 3,049
FC-170 2,485
FC-170 DRW 335

1960
FC-150 1,925
FC-170 2,602
FC-170 DRW 402

1961
FC-150 1,298
FC-170 2,053
FC-170 DWR 320

1962

1963

1964
References:
Collectible Automobile - June 2007 pages 52-59--Old Hippie 12:06, 20 April 2008 (EDT)
External Links
Forum for the discussions of Jeep--Old Hippie 12:06, 20 April 2008 (EDT)