Crankshaft
From MoparWiki
---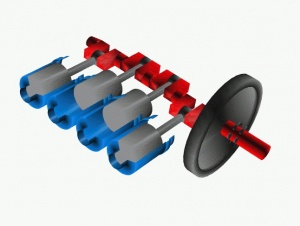 Definition
The crankshaft, sometimes abbreviated to crank, is the part of an engine that translates reciprocating linear piston motion into rotation. To convert the reciprocating motion into rotation, the crankshaft has "crank throws" or "crankpins", additional bearing surfaces whose axis is offset from that of the crank, to which the "big ends" of the connecting rods from each cylinder attach.
It is typically connected to a flywheel to reduce the pulsation characteristic of the four-stroke cycle, and sometimes a torsional or vibrational damper at the opposite end, to reduce the torsional vibrations often caused along the length of the crankshaft by the cylinders farthest from the output end acting on the torsional elasticity of the metal.
---
Random Page | Longest Wikis | Oldest Wikis | Newest Images | Newest Wikis | List of Categories | List of Every Freakin Wiki
---
Register to Edit

It takes less than 5 minutes to request registration for editing, and we try to approve within 24 hours. Click the Register Link in the Top Bar.
MoparWiki Help

While editing Wikis may at first glance appear a little overwhelming, it really isn't. You will find this site's HELP (link found in the sidebar) to be very strong and easy to understand. The best way to start is with small edits and working on your user page -- and you will become a Pro in no time.
---