Clutchflite
From MoparWiki
---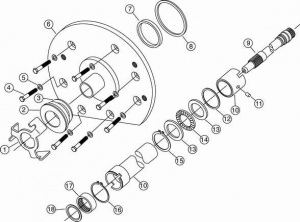 The Clutchflite was an automatic transmission developed by B&M in the 60s specifically for drag racing, usually in a Mopar with a Hemi. In the case of the Mopar version, it was a 727 Torqueflite that had the bellhousing sawed off. In place of a torque converter, the Clutchflite utilized a heavy flywheel and a clutch setup. There was a spider assembly to drive the transmission pump. The idea was that you could leave as hard as a stick car, while having the consistency and speed of an automatic. It was used in the 60s because torque converter technology was still pretty primitive, and it was thought that the Clutchflite would be a good compromise of hard launches, quick shifts (that most drivers couldn't make), and not have the lack of efficiency of a torque converter (Drive-Through) at the top end.
The Clutchflite proved to be both unreliable and a safety issue.
The first NHRA Pro Stock car to try a Clutchflite was the Motown Missile.
References
This Wiki requires References
---
The information in this wiki will have more creditability with some references to back it up