Main Page
From MoparWiki
---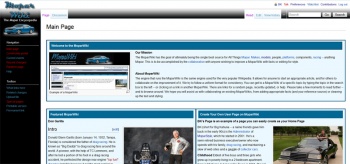 The Mission

The MoparWiki has the goal of ultimately being the single best source for All Things Mopar. Makes, models, people, platforms, components, racing -- anything Mopar. This is to be accomplished by the [[Collaboration|collaboration] with anyone wishing to improve a MoparWiki with facts or editing for style.
About MoparWiki

MoparWiki was created in 2008 and is administered by Dave Schultz. The engine running the MoparWiki is the same engine used for the very popular Wikipedia. It allows for any registered editor to start an appropriate article, and for other registered editors to collaborate on the improvement of it. We try to follow a uniform format for consistency. You can get to a Wiki of a specific topic by typing the topic in the search box -- or clicking on a link found in another Wiki. There are links for a random page, recently updated, or help in the left sidebar. Please take a few moments to read further -- and to browse around. We hope you will assist us with collaborating on existing MoparWikis, from adding appropriate facts (and your reference source) or cleaning up the text and styling. Please clicks under the heading of Understanding Wikis in the sidebar.
The Last American Hot Rod to roll off the assembly line in the late 1970s.78 Lil' Red Truck
Dodge released the Lil' Red Express Truck In 1978 it was one of the most unique Dodge trucks that had ever been produced. The Lil' Red Express was not only a real looker but these trucks were also real performers also. In 1978 The Dodge Lil' Red Express was the fastest American made vehicle from 0 to 100 MPH as tested by Car and Driver magazine.
Because of a loophole in the emissions regulations the 1978 Dodge Lil' Red Express Truck's did not have catalytic converters, what the Lil' Red Express did have was a special High Performance 360 C.I. 4-barrel small block engine code (EH1) which was a modified version of the 360 police engine (E58) producing 225 net horsepower @ 3800 RPM. The package also included Hemi style mufflers with a crossover pipe breathing through 2 chrome stacks located behind the cab, a special 727 transmission and 3.55:1 rear gearing.
The 1978 Dodge Lil' Red Express Truck rode on GR60x15 raised white letter tires on 7-inch Chrome wheels up front and LR60x15 on 8-inch chrome wheels on the rear and there was no spare included. All 1978 Dodge Lil' Red Express Truck's were automatics the interiors were available with a standard bench seat in red or black or with optional buckets and a fold down arm/rest console which was available both years. 1978 and some early 1979 Dodge Lil' Red Express Truck's used the "tuff" steering With the success of the 1978 Dodge Lil' Red Express Truck production of the 1979 Dodge Lil' Red Express Truck's was increased to 5,118. Most of the features remained unchanged for 1979 however there was some changes which included a catalytic converter, unleaded gas, 85 MPH speedometer. Read More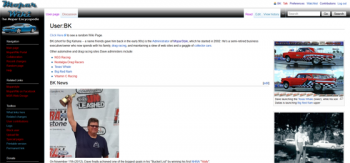 Each Registered User gets his own User Page that he can update with his information, so that visitors to the site get an idea of who the people collaborating on the MoparWiki are. This Page can also be used as your personal web page, which you can link in your signature on forums, or included on your personal business cards (500 at Vista Print for $10).
But most importantly, a User Page is a place where you can practice and perfect your editing skills before taking on major changes of the creation of a wiki. MoparWiki encourages you to become a registered member, to spend a little time playing around with creating your personal User Page, and then to jump in and collaborate on the Wiki pages needing improvement. Read More
---
Random Page | Longest Wikis | Oldest Wikis | Newest Images | Newest Wikis | List of Categories | List of Every Freakin Wiki
---
Register to Edit

It takes less than 5 minutes to request registration for editing, and we try to approve within 24 hours. Click the Register Link in the Top Bar.
MoparWiki Help

While editing Wikis may at first glance appear a little overwhelming, it really isn't. You will find this site's HELP (link found in the sidebar) to be very strong and easy to understand. The best way to start is with small edits and working on your user page -- and you will become a Pro in no time.
---
---