Difference between revisions of "Don Garlits"
From MoparWiki
(One intermediate revision by the same user not shown)
Line 119:
Line 119:
 

[[Category:Drag Racing|Garlits, Don]]

 

[[Category:Drag Racing|Garlits, Don]]

 

[[Category:Needs Collaboration]] <!-- Remove from this category once Wiki is more than 50% complete -->

 

[[Category:Needs Collaboration]] <!-- Remove from this category once Wiki is more than 50% complete -->

 
+
 
+
---
Revision as of 04:25, 26 March 2020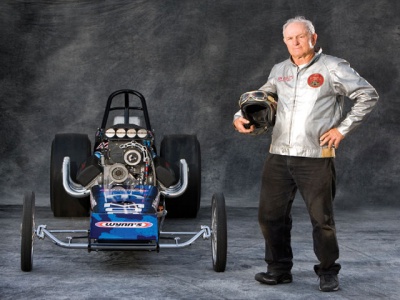 ---
MoparWiki has Tested NEGATIVE for The Corona Virus!
---
Most of y'all are stuck home and bored. Why not register as a Member, create a MyWiki to get the handle of the Markup Language, and adopt an incomplete Wiki of interest and collaborate on it. Thank You - BK
---
Intro
Donald Glenn Garlits (born January 14, 1932, Tampa, Florida) is considered the father of drag racing. He is known as "Big Daddy" to drag racing fans around the world. A pioneer, with the help of TC Lemmons, and after he lost a portion of his foot in a drag racing accident, he perfected the design rear-engine "top fuel" dragster (notable because it put the most explosive parts of the dragster behind the driver) and was an early endorser of a full-body, fire-resistant suit. In 1964, he became the first drag racer to officially surpass 200 miles per hour; he has broken a number of other speed records, surpassing 270 miles per hour in 1986.
Drag Racing was a California based sport. Don Garlits being from Florida was the outsider who came in and beat them at their own game. He was sometimes referred to as the Floridian, such was his uniqueness.
Garlits was the first driver to win three National Hot Rod Association national titles and three world championships, the last coming at the age of 54.
Garlits won the first NHRA Drag race he entered with the first racecar he built. It was 1955, and the NHRA Safety Safari had come to Lake City, Fla. A short three years later, the garage and body shop owner was racing professionally with the first of 34 race cars he would later tag Swamp Rat. He didn't stop until 1992, when eye trouble, the result of deceleration G forces of nearly 7 G's, forced him from the seat at age 60. In the four-decade interim, Garlits took on all comers on any racetrack in the country and sometimes abroad. Driving chassis he fabricated that were powered by engines he built, Garlits won 144 major open events and 17 national championships in the sport's three major hot rod associations
this wiki is in need of a Wordsmith to clean up the writing style of this this page to be a little more readable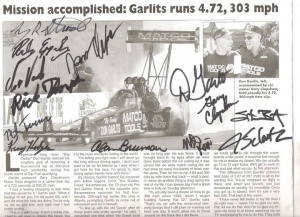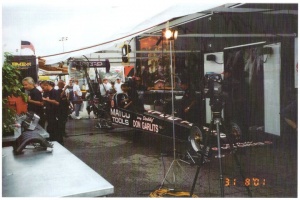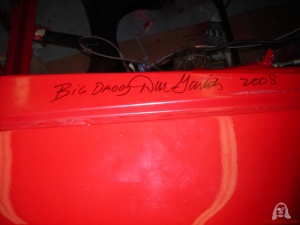 Personal Data
Full Name:Donald Glenn Garlits
Nickname: Big Daddy
DOB: 1-14-32
Place of Birth: Tampa, Florida
DOD:
Place Interned:
Spouse: His high school sweetheart...Patricia Bieger, which he married a year after she graduated in 1953
Children:2 Daughters....Gay Lyn & Donna.
Don got married and decided to settle down – until a Sunday drive took them past a drag strip. On a whim, Garlits entered the family sedan, a 1950 Ford. After capturing the class win and a trophy, Garlits knew that drag racing was his future.
Childhood
Donald Glenn Garlits grew up poor in Tampa, Florida, and honed his mechanical skills repairing bicycles and farm equipment. His future was uncertain until a high school teacher introduced him to a new publication called Hot Rod Magazine. The young Garlits was hooked, and at the age of 17, bought his first car, a blue 1940 Ford sedan, for $345.
Don got married and decided to settle down – until a Sunday drive took them past a drag strip. On a whim, Garlits entered the family sedan, a 1950 Ford. After capturing the class win and a trophy, Garlits knew that drag racing was his future.
Education
Don went to Hillsborough High School, Tampa, Fl
Important Accomplishments
His first win in 1955 was in his crude and highly modified 12.1-second, 108-mph, flathead-powered '27-T roadster-cum-slingshot:
Garlits built his first Swamp Rat: Built on '30 Chevy frame rails, he raced that car for five years all over the country and in many incarnations.
He won the Florida State Championships in 1956, it turned 10.9s at 135 mph
In 1957, he was the first to exceed 170 mph, (176.40); the next year, he was the first over 180, (180.00) mph
By 1961 and with the retirement of Swamp Rat I, the six Stromberg carburetors had been replaced by a supercharger, the gasoline by nitromethane, and the e.t.s were in the low eights, (8.36). "Swamp Rat II"
By the time he built Swamp Rat III, he had won the AHRA Nationals, the Texas State Championship in 1958, Then in 1959, he won the Northern California championship, the Arizona State championship.
Then with Art Malone driving while he recovered from near-fatal burns suffered in a match race in Chester, S.C., they won The Riverside Invitational in California. In 1960, Don returned to driving, in Swamp Rat II, a gas-powered dragster, he won the first NHRA Winter Nationals in Daytona, Fla.
Swamp Rats
need collaboration on the Swamp Rats


By the close of the 1960s, when NHRA hosted only two national events a year from 1961 to 1965 and four a year from 1965 to 1969, Garlits had won six titles. He had also won four AHRA national events and the first of five U.S. Fuel & Gas Championships in seven career final rounds. Driving two different Swamp Rat dragsters each day of the two-day Fuel & Gas runoffs in 1965, Garlits won Saturday and again Sunday over teammate Marvin Schwartz. The event had been created in 1959 specifically to lure Garlits to California to race.
The 1970s opened badly for Garlits when a transmission explosion -- in the fatefully tagged Swamp Rat XIII ... The rear engine dragster was born ... A year later Garlits took his rear-engine Swamp Rat XIV to the final again. Several weeks later, he became the first to win an NHRA national event with a rear-engine dragster when he set the Top Fuel class on a new course by winning the Winternationals
In the 1970s, driving a succession of Swamp Rat dragsters, Garlits became the first to run in the 6.3s and the first to exceed 250 mph. He ran the first 250-mph speed at the 1975 NHRA World Finals to win his and the first Winston NHRA World Championship; the speed would not be eclipsed for seven years. His e.t. on the run, 5.63, was a tenth and a half quicker than the record he had set two years earlier.
Swamp Rat XXX, the first successful streamlined Top Fuel dragster, took Garlits to his third Winston Top Fuel championship in 1986. In 1987, he took it and the reputation of the sport to Washington, D.C., for the car's installation at the Smithsonian Institution.
He further contributed to the sport in the 1980s when he opened the Don Garlits Museum of Drag Racing in Ocala, Fla., in 1984
Epilogue
Big Daddy's has had many accomplishments since he retired from Top Fuel. While he is seen signing autographs at many events, or popping in at his Big Daddy's Museum, he often is seen going down the track. The below are a few of his major accomplishments since retirement.
In 1982
With Swamp Rat 27, Don Garlits mounted the engine sideways in the chassis in an effort to gain more traction from engine torque. His aim was to plant the tires more evenly by mounting the engine so it's torque reacted upon the chassis longitudinally, eliminating the normal mountings propensity to torque the chassis to the right. This much worked beautifully and the car left very hard. But the side-mounted SMS gearbox simply absorbed too much power for it to be competitive. In a match race against Shirley Muldowney at O.C.I.R. SW 27 left hard, but only managed 228 at the big end as Shirley already had the laundry out after pulling him all the way down. The project was abandoned shortly thereafter. The next year, he installed a 2,000-horsepower T58-10 turbine engine in the 1,000-pound Swamp Rat 28, but Don was disappointed with best runs in the 6.40s. Both attempts at building a better drag racing mousetrap proved unworthy, but they were evidence of Garlits' intelligence and determination.
2001 US Nationals, Big Goes 4 Seconds/300+ MPH at Age 69
Alan Brunson adds, "I was on the pit crew for 'Big' at the 2001 US Nationals.
At that time he never had been in the 4 second club or in the 300 MPH club. Gary Clapshaw loaned his Top Fuel Dragster and his whole crew to Big Daddy so that he could achieve one of his last major goals."
In the borrowed car, and at age 69, Big Daddy got his first time ticket in the 4s (4.72) and hid first in the 300 MPH Club (303 MPH).
Big Daddy now has a Drag Pack Challenger that he runs in Stock Eliminator
Need a little collaboration on his return to racing

Call him what you will -- "Big Daddy," "Swamp Rat," "the Old Man" -- but with his status as the top driver in NHRA's first 50 years, call Don Garlits "the Best.
"Still a popular figure at drag racing events, "Big Daddy" Don Garlits can usually be found at his Museum of Drag Racing in Ocala, Florida. In 2004, at the age of 72, he took Swamp Rat 34 out of his museum a final time and drove it to a career best: 323.04 mph.
This Wiki is Under Construction, and can use your help!
---
Please take a moment to add any information you might have on this topic. It is through this type of Member collaboration that the MoparWiki will grow into being the Ultimate Mopar Infobase. The links contained in the Understanding Wikis box in the sidebar can help you get started.
References
This Wiki requires References
---
The information in this wiki will have more creditability with some references to back it up
Related Links
---
Register to Edit

It takes less than 5 minutes to request registration for editing, and we try to approve within 24 hours. Click the Register Link in the Top Bar.
MoparWiki Help

While editing Wikis may at first glance appear a little overwhelming, it really isn't. You will find this site's HELP (link found in the sidebar) to be very strong and easy to understand. The best way to start is with small edits and working on your user page -- and you will become a Pro in no time.
---
---
MoparWiki has Tested NEGATIVE for The Corona Virus!
---
Most of y'all are stuck home and bored. Why not register as a Member, create a MyWiki to get the handle of the Markup Language, and adopt an incomplete Wiki of interest and collaborate on it. Thank You - BK
---