Deora
From MoparWiki
History
The Dodge Deora is a combination of a 1960s Custom Car and Dream Car version of a futuristic Dodge A-100 Forward Control pick up truck. It was maybe the most popular AMT Model car ever.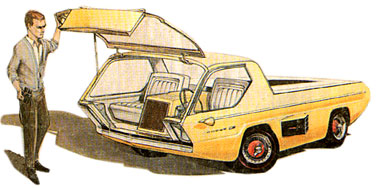 The Deora was the idea of Detroit car customizers and brothers, Mike and Larry Alexander. In 1964, they took their idea to former GM designer Harry Bently Bradley to put their idea on paper. They approached Chrysler to back their plan for a Chrysler Show Car -- but were prepared to approach Ford and switch to the Ford Econoline Pick Up if Chrysler turned them down. Chrysler liked the idea, and handed over a new 1964 Dodge A-100 without any options to be modified.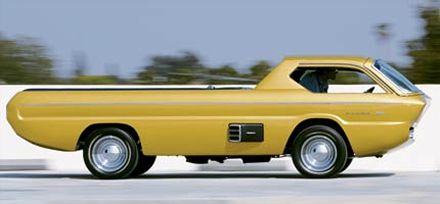 The van was stripped down to the floor. The front opening hatch was taken from a 1960 Ford Station wagon faced rearward, which was electrically operated. The rear window was from a 60 Ford Sedan. The tail light units were hidden Thunderbird sequential tail lights, reflected on a chrome strip underneath. The Slant Six was moved back 15 inches -- well into the bed of the truck. The radiator was also moved to the bed -- with electric motors drawing air through the body side ducts, which were actually Mustang tail light bezels. This also required relocating the gas tank. All of this was hidden with a bed tonneau. The steering wheel was a dragster butterfly type. Hurst came up with the shifter linkage. It was painted yellow and had black interior. The cost to build was approximately $10,000.
Chrysler leased the Show Car from the Alexander Brothers in 1967 to go on the show circuit, where they advertised it as the van of the future. At the Detroit Autorama -- the Deora won nine awards, including the coveted Ridler Award. Chrysler again leased the Deora in 1968 -- but wanted the Deora painted a light metallic lime green. Chrysler did not renew their lease in 1969 -- and the Alexander Brothers sold the Deora to Custom car enthusiast Al Davis in 1970.
This Wiki is Under Construction, and can use your help!
---
Please take a moment to add any information you might have on this topic. It is through this type of Member collaboration that the MoparWiki will grow into being the Ultimate Mopar Infobase.
References
Links
Register to Edit

It takes less than 5 minutes to request registration for editing, and we try to approve within 24 hours. Click here to register
MoparWiki Help

While editing Wikis may at first glance appear a little overwhelming, it really isn't. You will find this site's HELP (link found in the sidebar) to be very strong and easy to understand. The best way to start is with small edits and working on your user page -- and you will become a Pro in no time.